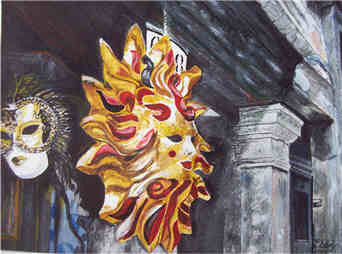 Watercolor on paper,
9.5" x 7"
To paint venetian masks is a pleasure for me. This is my first such picture, and in future there will be many more.
In 1162 Doge Vitale Michieli triumphed over Ulrich II of Treven and an annual celebration to commemorate the occasion was commenced. The first documented usage of Venetian masks in conjunction with the annual celebration was in 1268.
The use of masks during the life of the Venetian Republic remains one of mankind's notably eccentric practices. Indeed, masks have been worn in cultures throughout the world for thousands of years, but perhaps never with such fervent pageantry as in Venice.
Below I have added a video showing masks of Venetian times and styles, with flowing Waltz music typical of a Venetian Masquerade party.
Aram Khachaturyan - Masquerade
Copyright Lily Serj, and LilysWatercolorPaintings 2008-2011